Rolls Surrette Batteries
THE CROWN JEWEL IN DC BATTERY SPECIALISTS' BATTERY LINE
Their quality and workmanship is unsurpassed by any other battery manufacturer in the world. The seven and ten year warranties offered by the manufacturer demonstrate their confidence in their quality. Their strength is in deep cycle battery applications where depth of cycle and long service life is important. Rolls Surrette batteries are manufactured by Surrette Battery Company Ltd. using improved construction techniques in battery plate, plate insulation, and battery case construction. To maximize capacity per size, Rolls Surrette batteries are open cell, flooded plate technology batteries. Rolls Surrette Battery manufactures an extensive battery line: Marine deep cycle batteries, diesel starting batteries, standby generator batteries, and Solar Panel (photovoltaic) deep cycle Batteries.
DC Battery Specialists is the Stocking Warehouse Distributor of the Rolls Surrette Battery Line!
Manufactured by Surrette Battery Ltd.**
(** Marketed in the US as Rolls Battery and Internationally as Surrette Battery.)

Rolls Surrette
Stationary Batteries
for Solar Panel Photovoltaic, Inverter, Renewable Energy and Alternative (Alternate) Energy Applications. Deep Cycle Batteries for Standby Applications



Rolls Surrette Marine, RV House Service & Inverter Deep Cycle Batteries


Rolls Surrette Absorption Glass
Mat (AGM) Batteries
for both Marine and Renewable Energy Applications

Rolls Surrette Railroad And
Locomotive Batteries
Rolls Surrette Batteries Are Constucted With Techniques And Materials Which Are Unique In Deep Cycle Battery Manufacturing:
The heart of the Rolls Surrette battery is the thick high density positive plates. Each plate is wrapped in fiberglass matting which holds the active material in place and keeps the plate material from shedding off the plate during deep discharges. The mat covered plate is inserted into a micro-porous polyethylene envelope to insulate it from the negative plate and isolate it from impurities which may shorten its service life. This insulating technique omits the need for sediment chambers at the bottom of each cell since any sediment is captured and contained within the envelope. Subsequently, this allows space for taller plates which increases capacity and adds to battery service life.
An example of this technology is the Rolls 8D which the industry refers to as "BIG RED."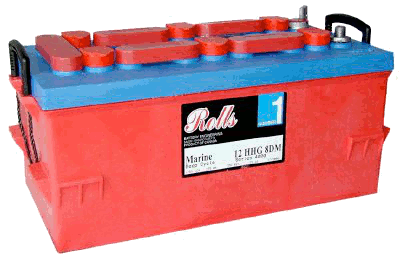 Big Red is the Heaviest (183lbs) & Highest Capacity (275AH) 8D Battery manufactured. It is made in a redesigned light weight case and it is the same size as a standard 8D. The redesigned case also allows more interior space for plate material. In addition, it has 1.5 inch diameter watering ports with attached flip top vent caps. You will never have to search for lost caps again.
CAPACITY BREAKTHROUGH FROM SURRETTE ENGINEERS!
Another new generation of High Capacity Batteries for Deep Cycle Solar Panel, Inverter, and Marine applications, utilizes dual container construction. Each 2 volt cell is built into its own lightweight container made of durable polypropylene with the cover heat bonded to the container, thus acid leakage is eliminated. The cells are then assembled into a tough, lightweight polyethylene outer container with a removable lid. Even if the outer container were to break, the battery would still be operable without acid spills.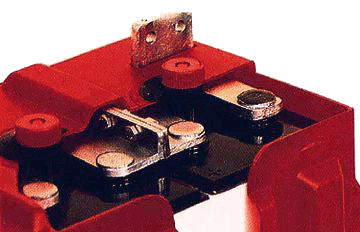 The individual cells are bolted together allowing the battery to be disassembled and the cells can be independently removed as shown in this cutaway view above. This facilitates easy on site installation. Disassembly, assembly, or replacements of individual cells are possible without special skills or tools.
These batteries provide the highest amp hours in the smallest space with the lightest battery weight. This makes them perfect for stationary battery applications such as Alternative (Alternate) and renewable energy battery sites and non stationary battery applications such as marine house service battery applications and RV house service applications.
DC Battery Specialists remain available for consultation in the selection of Rolls Surrette Batteries.
---