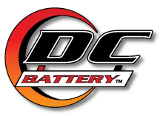 DC Battery Specialists
7415 N.E. 1st Place
Miami, Florida 33138
USA
Phone: 305-758-5041
Fax: 305-758-3469
Lifeline Batteries

Premium Sealed Maintenance-free, Deep Cycle, Batteries for Marine, RV, UPS, Inverter, Solar Panel (Photovoltaic), Telcom, CATV and Stand-by Applications
NEW AGM TECHNOLOGY SEALED MAINTENANCE FREE BATTERIES WITH
TWICE THE CYCLE LIFE OF GEL BATTERIES & FASTER RECHARGE!
**
(**Click to download and save on your computer. PDF format. Adobe Acrobat viewer required for viewing.)

LIFELINE BATTERIES FEATURE: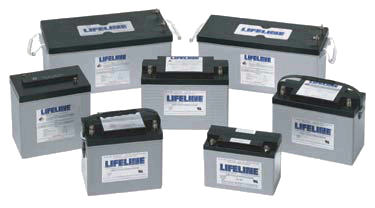 Aircraft class cell construction:

Lowers internal resistance for high repeated engine start current.
Withstands shock and vibration much better than flooded or gelled electrolyte designs.

Twice as many discharge/charge cycles as the leading gel battery (see chart).
Faster recharge; no current limitations with voltage regulated recharging.
Much better charge retention than flooded cell types, even at high ambient temperatures.
Full recharge after 30 days storage in a full discharge condition 77°F (25°C).
Sealed construction with absorbed electrolyte - no shipment restrictions; submersible without damage; install in any position; no need for watering; no corrosion on terminals.
Cell safety vent valves - pressure regulated, nonremovable.
Rugged, nonmarring polypropylene (copolymer) case/cover.
Safety - even during severe overcharge the LIFELINE AGM battery produces less than 2% hydrogen gas (4.1% is required for flammability in air).
FAA and Military approved; Manufactured to DOD military specifications;
Lifeline batteries are not restricted from shipment by air. Passes DOT 49 CFR Sec.173.159.
Lifeline 12 Volt AGM Deep Cycle Batteries
Lifeline 12 Volt AGM Deep Cycle Batteries

Lifeline 6 Volt AGM Deep Cycle Batteries

Lifeline 2 Volt AGM Deep Cycle Batteries



For the past 15 years, Lifeline Battery has been a leader in research, development and production of sealed lead acid batteries for the US Navy and US Air Force. Their current LIFELINE series is designed for marine, RV (Recreational Vehicles), UPS, inverter stand-by and photovoltaic applications in order to correct many of the shortcomings of the sealed gel (GEL-CELL) batteries. LIFELINE AGM construction maintains the sealed aspects of gel batteries while reducing their chronic recharge sensitivity. In addition, LIFELINE AGM technology increases Amp-Hrs., Cranking Performance, Reserve Capacity, Depth of Cycle and Cycle Life over gel technology.

This increased Lifeline battery performance has made them original equipment on many high quality commercial ships and pleasure craft including Island Packet, Pacific Seacraft, Samuel Morris, Elco Electric Boats, Washington Water Bus, Alden Yachts, Hinkley Yachts, Santa Cruz Yachts, Whitecat Marine, Equitable Ship Builders, and Broward Marine. In addition, Lifeline batteries are original equipment on Fleetwood, Vantare, Marathon, Paramount, Vision and Royal motorcoaches and recreational vehicles where inverters such as Heart, Trace and Vanner apply heavy loads to batteries. Lifeline batteries' efficient charge acceptance and low internal discharge make them ideal for photovoltaic (Solar Panel) and UPS applications where sealed batteries are desired.

Lifeline batteries are built to standard BCI dimensions for
easy upgrade replacements of existing batteries!