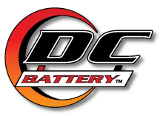 DC Battery Specialists
7415 N.E. 1st Place
Miami, Florida 33138
USA
Phone: 305-758-5041
Fax: 305-758-3469

Fast Quotes
and Shipment Scheduling
F
or the fastest availability checks and current price quotations, just fill-in this on-line form and then click "Submit Request" at the bottom. We'll get right back to you with a quotation. You may also e-mail DC Battery Specialists at . Be sure to include your name, location, and a required e-mail address, telephone, or fax number to contact you.
The information you enter in the form is utilized only for your quotation and will not be distributed to others.

La información que introduzca en el formulario se utiliza únicamente para su cita y no se distribuirá a los demás.
---
Copyright © 2021, 2022. All rights reserved.