OPTIMA®
The Next Generation Of Battery Technology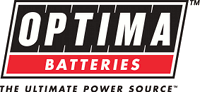 The OPTIMA is a sealed, maintenance-free AGM (Absorbed Glass Mat) battery which
exceeds the cranking performance of all other batteries in its size category.

(**Click to download and save on your computer. PDF format. Adobe Acrobat viewer required for viewing.)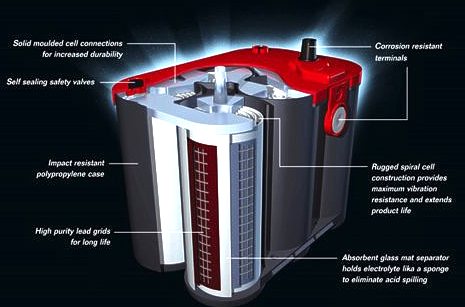 PRINCIPAL FEATURES:
Impressively high cranking characteristics in a small battery!

Higher charge acceptance during recharges!

Sealed maintenance free technology.

No leaking even if case is broken!

Shock and vibration resistant!

Light weight!

Long Service Life!

The OPTIMA doesn't look like an ordinary battery, because it isn't!
The key to OPTIMA's significantly greater performance is its unique dual plate spiral-cell design. This revolutionary design results in a sealed battery that has extremely low internal resistance and which produces high cranking amperage and very fast recharging characteristics.
PROVEN APPLICATIONS:
Commercial and Pleasure Marine
Diesel engines and generators
High Performance Automotive Sound Systems
Off-road vehicles
Pickup Trucks
Aircraft ground support equipment
Automobiles

Emergency Vehicles
Military Assault and Personnel Vehicles
Delivery Truck and Auto Fleets
Farm Equipment
Racing Vehicles
Snowmobiles
Vintage and Classic Vehicles
HIGHEST CRANKING PERFORMANCE IN ITS SIZE CATEGORY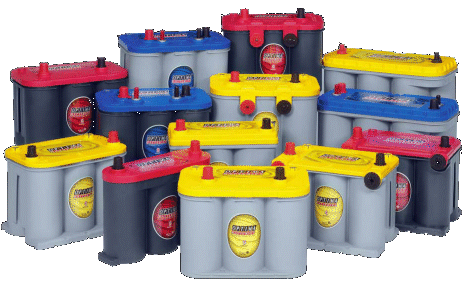 OPTIMA delivers high current at Arctic as well as tropical temperatures. The OPTIMA delivers no less than 800 AMPS at 0 degrees F and as much as 1,100 AMPS at warmer temperatures! In addition, Optima will absorb nearly 100% of the recharge current from alternators and battery chargers.
At DC Battery Specialists, we found that the Optima will consistently deliver 1,100 cranking amps for 25 to 30 seconds. At only 38 pounds this is comparable to batteries 4 times its size and weight. In addition, we are able to recharge this battery faster than any we have tested.
SEALED, VIBRATION RESISTANT, AND LEAK PROOF EVEN WHEN BROKEN
In an OPTIMA battery, the lead plates and separator are wound and tightly compressed into a cell tube so they can't move, shed, or break, even in severe shock and vibration applications. In independent SAE tests, the OPTIMA kept working after being subjected to vibrations up to 5G for 12 hours. As in all AGM TECHNOLOGY BATTERIES, there is no "free acid" that can leak out or spill and the OPTIMA can be operated effectively in any position -- even upside down -- without any risk of leaking and because it is sealed, no corrosion can form on the posts, connectors, or cables.
At DC Battery, we have been shown tests in which the a bullet is fired into an Optima leaving a huge hole in the center. Even with the battery's interior exposed, there was no leakage and when placed into a vehicle, it performed perfectly.
OPTIMA HAS A LOWER RATE OF SELF-DISCHARGE
Those who use seasonal equipment, such as farm equipment, boats, and stand-by generators, appreciate the fact that the OPTIMA will spring to life -- even after months of nonuse. Resellers like the fact that an OPTIMA battery can sit on a shelf unused for up to a year before it needs boost charging.





---